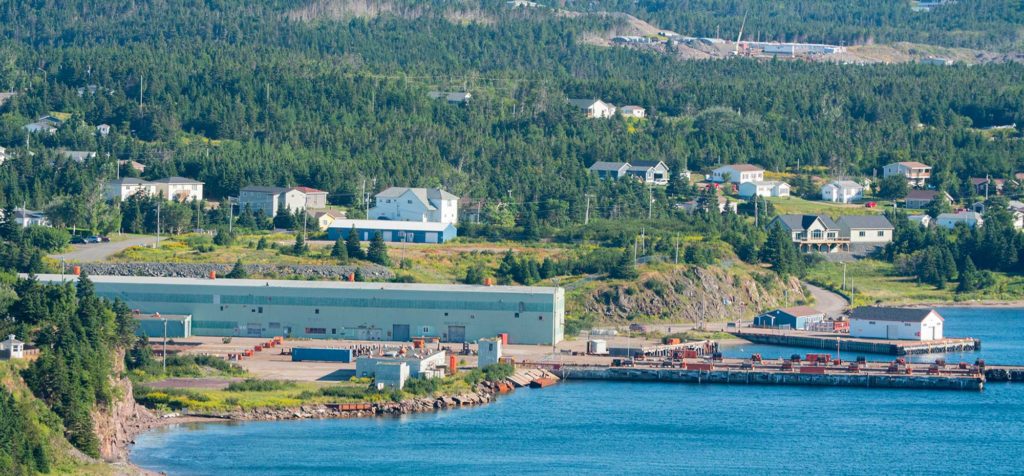 Marystown began its early days as a fishing and shipbuilding community. With the collapse of the fishery and the 'bust and boom' cycle of the shipbuilding industry, Marystown turned to opportunities in the offshore petroleum sector however, the nature of this resource sector fluctuates and employment varies.
In an attempt to create a more stable and ongoing source of employment, Marystown turned its attention to the construction of a Marine Industrial Park to take advantage of opportunities in the industrial marine sector. With 19 of 20 lots still available, Grieg NL Nurseries Ltd. chose five prime lots for the establishment of a land-based salmon hatchery with Grieg NL Seafarms Ltd. overseeing the marine-based operation. The hatchery will be the largest hatchery in Canada and one of the largest in the world. The hatchery will produce a sustainable, year-round resource and will use the latest in technology as well as a host of local suppliers for various services such as diving, ensilage treatment, maintenance, drivers, contractors, electricians, mechanics, HVAC specialists, engineers, construction suppliers and many more. With the need for a large and varied support and supply service sector for the hatchery, Marystown will no longer be reliant on one sector to sustain the economy. One of those suppliers is Marbase Marystown Inc.
The once idle former Marystown Shipyard will be transformed into an innovative, fully-integrated aquaculture service hub supplying cleaner fish for the hatchery and generating new opportunities for the area.
Peter Kiewit Sons' Co. has been a major industrial player in Marystown since 2002, operating both the Cow Head Fabrication Facility just outside Marystown as well as the Marystown Shipyard, which will now be operated by Marbase Marystown Inc. Both locations have been home to major fabrication projects including the Terra Nova Integrated Swivel Turnaround, the White Rose Topsides and the Hebron Topsides to name a few. Peter Kiewit Sons' Co. will continue to be one of three industrial footprints in Marystown creating employment opportunities for the future.
Why Marystown
This is an exciting time for Marystown, the peninsula and the province as a whole. By working together, we will create wealth in rural communities and grow a strong, more sustainable economy. So why choose Marystown for your career? There is a rising demand in the oil and gas industry which means increased offshore exploration. Direct employment in the offshore industry is on the rise with supply and service sector spin-off jobs anticipated to rise even higher. The aquaculture industry is growing and there is plenty of opportunity. There is a strong global demand for fish and seafood products and aquaculture is becoming one of the fastest growing food-producing sectors in the world.
We want you to be a part of that!