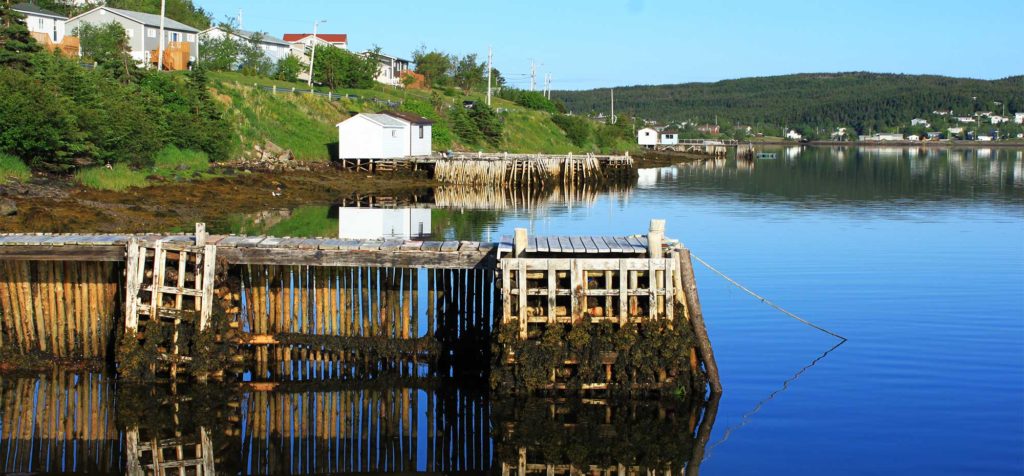 No matter the time of year, there's something to see and do in Marystown for residents and visitors alike.
Community Festivals and Events
Festivals and events enhance our community and the lives of our residents and visitors. They play an important role in our growth as an active and vibrant town. Check out our calendar of events for a selection of events hosted by the Town and other members of our community.
Community Groups
Marystown is rich with volunteers who are passionate about their community and enjoy what they do for the community.
If you want to have your community group listed here, please contact the Town Clerk at [email protected].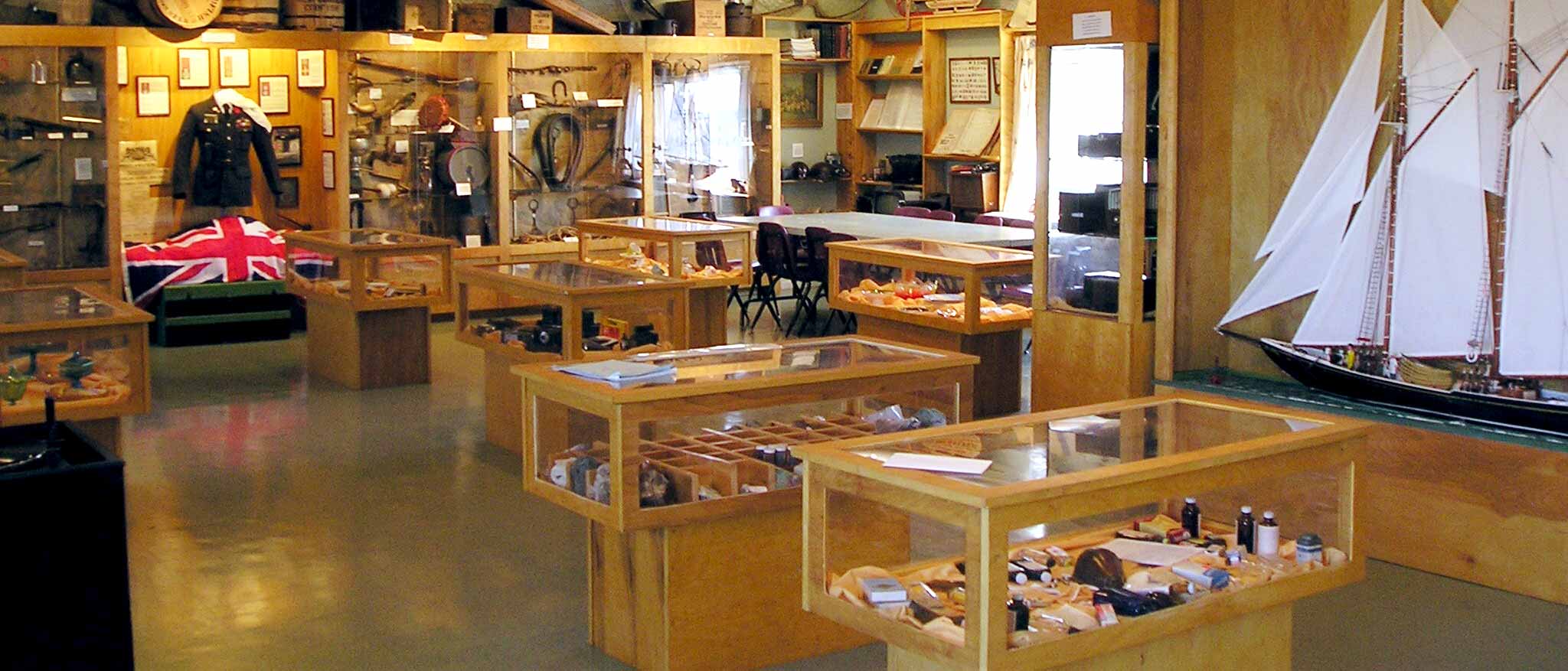 Museums
Gerard J. Kelly Memorial Fire Fighters Heritage Museum
In April 2003, members of the Marystown Volunteer Fire Department presented Council with a proposal to create the Fire Fighters Heritage Show Room (now Gerard J. Kelly Memorial Fire Fighters Heritage Museum) at the Marystown Fire Hall. The show room would preserve a number of firefighting memorabilia including pictures of past fires, pictures of honourary members, various awards, antique equipment and the highlight — the Department's very first pumper truck, Engine No. 1, a 1967 Dodge that is still operable today.
Marystown Heritage Museum
The Marystown Heritage Museum has a number of displays that allow you to experience the history of those before us when life was both simpler and sometimes harsher. Stop by and learn about our shipbuilding history and view some of the tools that were used in everyday life to earn a living. The museum is located at 283 Ville Marie Drive.
Veterans Memorial Room
­The Veterans Memorial Room is housed at St. Gabriel's Hall at 254-262 Ville Marie Drive. The Room is dedicated to the remembrance and recognition of those both past and present who have connections to the Burin Peninsula and served in war and peacekeeping efforts.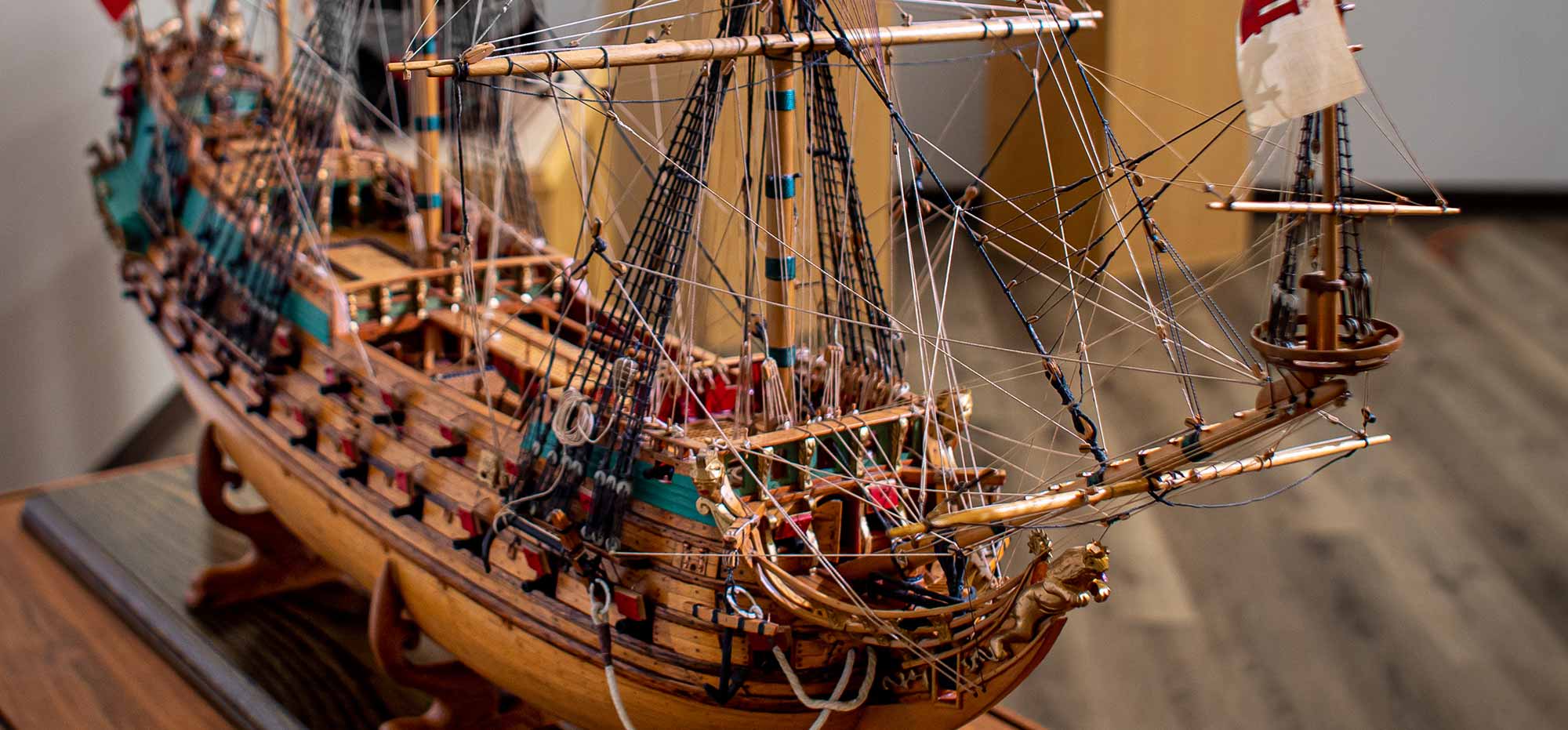 Galleries
Model Ship Exhibition and Gallery
During the summer 2019, the Town accepted and took receipt of a model ship collection from the family of the late architect and collector John Keith-King of Vancouver, BC. The collection, consisting of 80 models, is appraised at over $1.2 million. The model ships, along with other artifacts and artwork, will be on display at its temporary location at the Marystown Mall. Stay tuned for more information regarding our grand opening!
Churches
Heritage Baptist Church
The Heritage Baptist Church is located at 773-779 Ville Marie Drive, Creston North. The Heritage Baptist Church was started in September of 2003 and endeavours to minister to the spiritual needs of the residents of the Burin Peninsula. The church allows its members to worship and learn more about Jesus Christ without belonging to a denomination, conference or organization.
Seventh Day Adventist Church
The Seventh Day Adventist Church is located at 785 Ville Marie Drive, Creston North. It wasn't until the 1970's that the Seventh Day Adventists established a significant population in Marystown. The construction of the first church began in 1985, along with a Seventh-Day school. Though the construction was completed much earlier, 1987 demarks the official church opening.
Calvary Pentecostal Church
The Calvary Pentecostal Church is located at 814 Ville Marie Drive, Creston North. Establishment of the church began in 1956 but it was not until 1958 that the first Pentecost church in Marystown was officially completed. Since then there have been three Pentecost churches erected in the Marystown area: the original edifice in 1958, the second in 1974, and the current church that was built in 1995. The Calvary Pentecostal Church opened The Merge, a Community Centre for all ages and from all walks of life, at 38 Queen Street. The facility provides a multitude of programming and events for youth and adults alike, all free of charge.
Calvary United Church
The Calvary United Church is located at 13-23 Markland Road, Creston South. The Calvary United Church formed its union in 1925. The organization aims to maintain the integrity of the churches and to provide its followers a stable, Christian belief-based unity and worship. Calvary United Church administers the churches of the denomination and provides Christian education for the younger members.
Phone: 709-279-1943
Sacred Heart Church (Roman Catholic)
The Sacred Heart Church is located at 287-311 Ville Marie Drive, Marystown. Established in 1910, the original edifice, constructed in the early 1900s, had to be reconstructed in the late 1970s due to a fire. Early on, construction began on a parish hall and four years later, the doors to St. Gabriel's Hall opened. At the time of its construction, it was one of the largest structures on the Burin Peninsula. The building was declared a heritage site by Council on September 5, 2006.
The Salvation Army Faith and Hope Corps
The Salvation Army Creston Corps is located at 401-407 Creston Boulevard, Creston South. The Salvation Army is an international Christian organization that welcomes everyone. The Salvation Army's faith motivates its social programs. The Salvation Army began its work in Canada in 1882 and has been providing hope and support to vulnerable people since then. The Salvation Army is one of the largest providers of community and social services that focus on nurturing rather than just giving a hand-out.
Jehovah's Witnesses Kingdom Hall
The Jehovah's Witnesses Kingdom Hall is located at 114-118 Ville Marie Drive, Marystown. You do not need to be one of Jehovah's Witnesses to attend a meeting for worship. Everyone is invited to attend a meeting as they are open to the public. Many of the services include audience participation and begin and end with song and prayer.
St. Mary's Anglican Church
St. Mary's Anglican Church is located on St. Mary's Road/Garnish Pond Road, Marystown. With no Anglican church in Marystown an application was made for a new church in the 1960's. In 1969, a barge entered Mortier Bay bringing with it an abandoned church (the Church of St. Mary the Virgin) from St. Joseph's, Placentia Bay. In 1980, the Anglican Diocese of Central Newfoundland reconfigured the Parish of Burin and the Parish of Marystown was created. Construction of a new St. Mary's Anglican Church began in 1986, which was consecrated in 1989.
St. Michael's and All Angels Anglican Church
St. Michael's Anglican Church is located at 2-8 Barter's Place, Creston South. The church is one of the oldest churches in the area, with its roots in the first settlers to the area. The first formal congregation began with the building of a school chapel. Graham Howcroft, a Stained-Glass Designer originally from Blackpool, Lancashire, England, commissioned the Three Lancet Altar Window at St. Michael's and all Angels Anglican Church in 1999.
Church of Jesus Christ of Latter Day Saints
The Church of Jesus of Latter Day Saints is located at 633 Ville Marie Drive, Creston North. The church's membership is very family oriented with missionary work as its top priority.

Theatres
St. Gabriel's Hall
St. Gabriel's Hall, located at 254-262 Ville Marie Drive, was originally constructed between 1915 and 1919 and has been designated a heritage building by the Town for its historic, cultural and aesthetic values.
The Hall has played host to Rising Tide Theatre, theatrical performances such as Annie Jr. and Waking Ned Devine, musical performances from Buddy Wasisname and the Other Fellers, Shanneyganock, Masterless Men, Johnny McEvoy, Jim Payne and Ferfus O'Byrne, Kevin Collins and more as well as a number of variety concerts, stand-up comedy, open mic nights, dinner and a show, movies, music festivals and so much more!
Walking Trails
The Town has two trails that it maintains for the public's enjoyment. The Landing Place Pond Walking Trail is located along the Creston Causeway near Creston South, Marystown. The trail is approximately 1.8 km and consists of natural trails enhanced with crushed stone and boardwalks. The Janes Pond Walking trail is located on Harris Drive near Columbia Drive, Marystown and also consists of natural trails enhanced with crushed stone and boardwalks.
The trails are considered easy to use in terms of challenge. The stairs on our boardwalks have been replaced by ramps making our trails accessible and ideal for walking, jogging, snowshoeing or cross-country skiing. Landing Place Pond is also a popular spot for swimming.
To make our trails more enjoyable, for both the users and the ducks and other wildlife that reside there, we ask that all users share the responsibility for respecting our trails. Please carry out anything you carried in and be sure to use our green bins to dispose of garbage. Please ensure your dogs are on a leash at all times and always pick up after them. Do not use ATV's or snowmobiles on our trails as they lead to damage. For the safety of others, report any damage to the Town so it may be repaired.
Happy trails!
ATV Trails
ATVing is a great way to explore the region and experience the outdoors. There are several ATV trails in the region. Although the trails are maintained by associations, remember to come prepared for changing trail conditions as well as weather conditions and be sure to bring basic supplies (water, extra fuel, etc.).
Trail Information
To read more about the ATV trails in the region and get directions, visit these sites:
Points of Interest
Mortier Bay Viewpark/Lookout
The Heritage Run Tourism Association maintains seven viewparks located throughout the Heritage Run region on the Burin Peninsula. Distinctive orange signage will lead you to each viewpark.
For more information on the Mortier Bay Viewpark/Lookout, click here.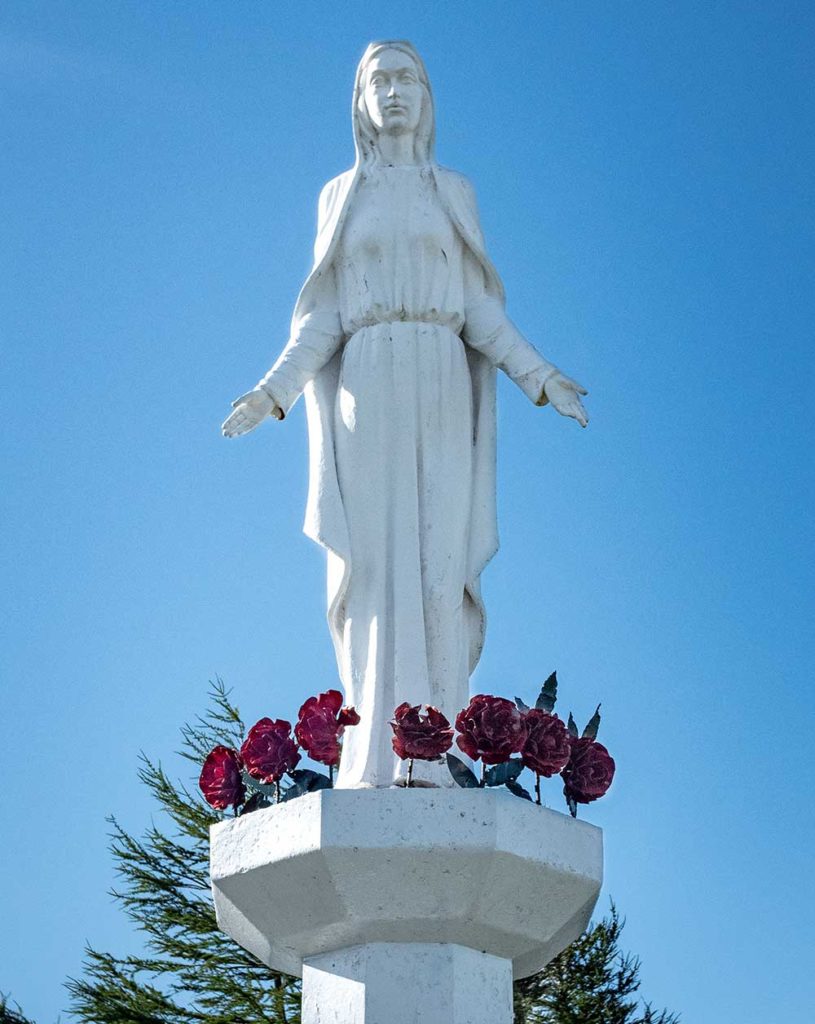 Mary Mount Monument, Tolt Road
The Mary Mount Monument is one of the largest Marian statues erected in Newfoundland, standing at fifteen feet tall. The statue overlooks the entirety of Marystown and sits at one of the highest points in town at the top of Tolt Road.
The statue was erected at the request of Ignatius Fitzpatrick and dedicated to his parents.
A mass is celebrated at the Mary Mount each year.
Kaetlyn Osmond Arena
The Kaetlyn Osmond Arena opened in 1975 and was first known as the Marystown Arena. It was later renamed to the Kaetlyn Osmond Arena in 2014 in honour of Ms. Osmond, a native of Marystown, Canadian Champion figure skater and Olympian who trained at the arena during her early years.
The arena has a seating capacity of 1,271 persons with additional limited seating capacity in the warm room/viewing area. The warm room, which is equipped with full kitchen facilities, cable TV and a mini-split heat pump, is available for rent for birthday parties, meetings or other social events.
During the winter season, the arena is open from 6:00 a.m. until midnight seven days a week, depending on bookings. The ice is installed around late September/early October to accommodate various hockey and figure skating events/practices and public skates and removed the following March/April (following Easter weekend).
Public skating is open to all ages from noon to 1:00 p.m. from Monday to Saturday and from 2:00 p.m. to 3:00 p.m. on Sunday.
Unallocated time slots and cancelled bookings are available on a first-come first-served basis. For more information on booking ice time, call 279-3220.
Facilities
| | |
| --- | --- |
| 7 Change Rooms | Official's room with shower |
| 3 Shower Rooms | First Aid Room (with Defibrillator) |
| 2 Bathrooms | Skate Sharpening |
| Full Kitchen | Canteen Services |
| Warm Room | |
Rental Rates 2021/2022
For all your Bookings/Rentals or general questions please contact our Arena Manager at 279-3220.
| | |
| --- | --- |
| Regular Rate (8:00 a.m. – 8:00 p.m.) | $120.00 plus HST ($138.00) |
| Prime Rate (See Prime Time below)* | $130.00 plus HST ($149.50) |
| Minor Group Rate ** | $100.00 plus HST ($115.00) |
| Minor Tournament Rate | $100.00 plus HST ($115.00) |
| School Rate | $75.00 plus HST ($86.25) |
| Early Morning Rate (for Associations affiliated with the Town) | $100.00 plus HST ($115.00) |
| Private Rental Rate | $100.00 including HST ($115.00) |
| Birthday Parties *** | $120.00 including HST |
| Snow Days & Holidays **** | $100.00 plus HST ($115.00) |
| Noon Skate 12:00 p.m. (Tuesday & Thursday) | Adults – $3.00, Children – $2.00 |
| General Skating (Saturday @ noon and Sunday @ 2:00 p.m. – subject to cancellation due to tournaments) | Adults – $3.00, Children – $2.00 |
| | |
| --- | --- |
| What is Prime Time? | |
| Monday to Friday | 8:00 p.m. – 11:00 p.m. |
| Saturday | 7:00 p.m. – 11:00 p.m. |
| Sunday | 4:00 p.m. – 11:00 p.m. |
* This amount is charged consistently to all users. Users are to pay before entering onto the ice. 
** These groups consist of Minor Hockey as well as the Ice Crystals Skating Club.
*** Includes one hour ice time and one hour in warm room. * Please note that due to COVID-19, the warm room is closed.
**** This is a rate for when students are out of school due to holidays or snow days.
Recent Upgrades
The Town has completed the following upgrades to the Kaetlyn Osmond Arena:
new bleachers
new sound system
new steel front doors
upgraded dressing rooms
complete overhaul of the shower system and washrooms off the shower rooms
some new rubber flooring
new sprinkler system
new dehumidifier system
new stair treads
new jet ice paint system
new rink board system
arena painted throughout with new signage
new refrigeration system
chiller overhaul
new CO2 detectors
pending LED lighting system
Thanks to a joint effort in 2015 by the Marystown Lions Club and Eastlink TV, as well as many organizations and businesses from across the Burin Peninsula, the Kaetlyn Osmond Arena is home to a new Zamboni.
Advertising at the Arena
The Kaetlyn Osmond Arena offers rink board advertising opportunities to the business community. Businesses are responsible for supplying the vinyl or polystyrene ad and ad locations are on a first-come first-served basis. The Town of Marystown has the right to refuse any message/ad that it does not deem appropriate. Contact the Director of Recreation & Community Services, at 279-1661 ext. 231 or [email protected] to book your ad space.
Inclement Weather
In the event of inclement weather, the closure of the arena will be based on the closure of the Town Office. The Town of Marystown considers the safety of its employees to be its no. 1 priority.

Recreation Complex
Modern recreational infrastructure is a crucial building block for a strong and healthy community. On February 8, 2016, in partnership with the Provincial and Federal (ACOA) Governments, the Town opened the doors to a brand new recreational complex which is operated by the YMCA of Newfoundland and Labrador. This marks the first YMCA presence on the Burin Peninsula!
For more information on the Marystown YMCA and its programs, program scheduling, lessons, membership fees, rentals and more, please visit the YMCA's website.
Track & Field Complex
Located on Harris Drive, the Marystown Track and Field Complex boasts many features that are second to none in the province which provide a focal point for both small and large scale events. The Complex offers a variety of well-designed sport and recreational facilities while maintaining natural play areas and scenic beauty. Incorporated in the complex is a playground, a fitness park, a lighted softball field, a regulation size track, two soccer fields, two beach volley ball courts, two tennis courts, a concert stage with 400 amp service, storage accommodations, special event and meeting room accommodations, shower and washroom facilities, kitchen facilities and canteen facilities.
For further information, facility schedules, user fees and bookings, please contact the Director of Recreation and Community Services at 279-1661 ext. 231 or email [email protected].
Skateboard Park
The Town's skateboard park is adjacent to the Track and Field Complex on Harris Drive. The 'Brandon Brockerville Memorial Skateboard Park' officially opened on September 8, 2010, in memory of local skateboarder Brandon Brockerville.
There is no charge to use the park and users are permitted to use skateboards, in-line skates, scooters and BMX bikes. The use of motorized equipment is strictly prohibited. The skateboard park is unsupervised. Users are encouraged to wear proper helmets and safety gear at all times and while there are no rules when it comes to skateboarding, we do ask that you follow the posted rules of use for the park itself.
Fitness Park
The Fitness Park was designed for personal fitness and recreation and allows users to complete a 10-station exercise regime at their own pace. For those taking advantage of the track for walking, this park can be used to enhance that walking routine or it can be used to enhance other training. Each station is clearly identified and users are guided through each fitness station via instructional signage that provides all necessary information relating to the type of exercise, procedure and expected participant benefit for that particular station.
There is no fee to use the fitness park.
Tennis Courts
The Town has two tennis courts within the Track & Field Complex off Harris Drive. Both facilities are state-of-the-art tennis courts with new rubberized surfaces. Our newest tennis court is a championship tennis court, the only one in the province. Both courts are first come, first served.
Splash Pad
The Town's new accessible all-inclusive splash pad is centrally located in the vicinity of the Track & Field Complex. The splash pad includes sensory gardens that allow for a wide range of sensory experiences and encourage the development of sensory and mental growth.
Dog Park
The Town's Dog Park is located in the Track & Field Complex off Harris Drive, adjacent to the Kinsmen Softball Bull Pen. The park is completely fenced in with separate sections for small/medium dogs and large dogs so dogs can run, play and exercise safely off-leash.
All users of the dog park are to follow the posted rules, which can also be found here.